Project Maths Notes™ are available as a teaching and learning resource – for schools, teachers giving grinds, or even businesses looking to train their staff. It can be projected on screen, can be printed out, and used with classroom tablet computers. (One licence will cover use for all school staff and students, for one year.)
You, your business, or your school can obtain a Teaching Licence for a yearly fee (€629.00)
Teaching Licences are also available cheaper for Student-Teachers. Please Click Here if you studying at third level.
Full Teaching Version of the Product offers You:
Comprehensive coverage of the Leaving Cert Higher and Ordinary Level syllabuses.
Zoomable, crystal clear vector-graphics, that can be projected instantly on-screen – saves time drawing on the whiteboard.
Highly structured, sequenced learning – with much detailed explanation – lends itself readily to any Tablet PC programme.
Focus on grammar and literacy with regard to the language of maths helps students read and understand exam questions better.
Designed to be printed out on A4 paper double-sided – light and portable PDF format easy to print as A4 handouts for students to take home with them.
Plenty of homework with original exam-style practice exercises given at the backs of handouts.
Solutions to practice exercises provided, for your convenience. (Not part of the standard Project Maths Notes™ product).
Informative, clean looking graphs – scaled evenly, having true proportions – makes it easier for students to visualise algebra.
Project-maths approach to teaching (using brain-power over "rote learning").
Opportunities for students to "try-it-for-themselves", with the frequent mandatory exercises.
Content inspired and tailored by feedback from over 200 students. Answers to mandatory exercises now anticipate the mistakes students commonly make, teaching them in the process.
Relevant, exam-focused material – multiple topics taught in parallel, with real-life physics and financial maths examples.
Ideal in preparation for the "mocks" (mock-exams) or even as a recap after the "mocks" – entire Leaving Certificate Maths syllabus can be revised effectively in 21 hours** (**fastest recorded times: 20 hours, for Leaving Cert Ordinary Level, excluding constructions chapter for a small group – 27 hours, excluding constructions, for Leaving Cert Higher Level student one-to-one.)
Product comprises 457 pages of learning material for Higher Level and 340 pages for Ordinary Level, plus worked solutions for both levels. As well as Leaving Cert, product can also be used with Junior Cycle syllabuses – and even for 3rd level modules.
Please note, if you are using Project Maths Notes™ as a Teaching & Learning Resource, (and you haven't already made a bulk orders purchase of the product for your classes), OR IF YOU ARE USING THE PRODUCT TO TEACH GRINDS (private tuition) YOU THEN MUST PURCHASE A TEACHING LICENCE to use these notes as your teaching aid. Naturally, this is more expensive than just purchasing a regular version. This is because you are using it for many students, or for commercial purposes (i.e. to make money). The benefit to you is that it slashes the amount of time you are having to spend on lesson preparation, while offering a professional looking service. It's a unique, valuable and essential resource for every fully equipped teacher.
"They are excellent in content and presentation. Thanks for making such a fabulous resource available."

J.D. – Co. Galway
"These notes have helped me enormously over the past number of weeks. They explain everything in great detail, yet in a clear and concise manner."

Laura – Co. Meath


By purchasing, you agree to the Terms & Conditions and No-refunds policy. Licence is for One Year.
1 Year – €629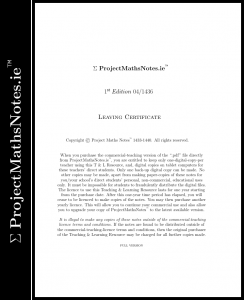 1017 Pages – Version 13.0



There is no obligation to renew licences, once you cease to use as a Teaching & Learning Resource.