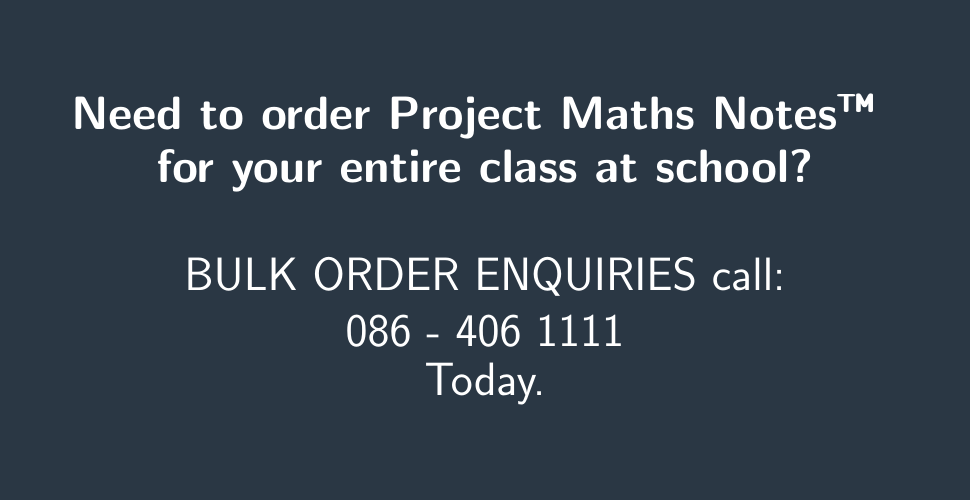 Or SEND A MESSAGE with the form below.
To avail of TEACHER DISCOUNTS for PROJECT MATHS NOTES™, simply fill in the form below, and press "Send Message". Please state how many full price / concession price HIGHER and ORDINARY LEVEL copies you need. (Designed for Leaving Cert).
(*) symbol indicates required fields. A sales person will reply to you with a quote. Please be patient in waiting for a response.
PARENTS wishing to purchase two or more copies (e.g. with two or more kids doing the Leaving Cert at the same time) or teachers buying for classes all students full price should just change the number of copies on the checkout page (e.g.: 1, 2, 3, etc.), then complete the purchase by card or PayPal. Any difficulties please call or text BUSINESS MOBILE 086-4061111.
TEACHERS: SUBSTANTIAL DISCOUNTS AVAILABLE FOR ANY STUDENTS WITH PARENTS/GUARDIANS ON MEANS-TESTED WELFARE PAYMENTS (e.g. Medical Card.) No documentary proof required – just certification that info is correct by any Teacher with a Teaching Council reg. number.
TEACHERS: please be aware, that if you wish to order more than 15 copies – and you're only using it for one year – it may be more economical for you to purchase a Teaching Licence. Please click here for more details on TEACHING LICENCES. Teaching Licences need to be renewed annually, but Bulk-Orders purchases of the product can be used for any lengths of time.
NOTICE: You must have a Teaching Licence for use of Project Maths Notes™ in private-tuition or "grinds" classes.
Why buy Project Maths Notes™?
Can be used to revise entire syllabus after mock exams. Fastest recorded times 27 hours for Higher Level**, 20 hours for Ordinary Level**. (**Excluding constructions.)
As can be seen from the Sample Pages section, the product works excellently on Tablet Computers.
You can also print out notes as double-sided handouts (on A4 pages), using the school photocopier.
Meanwhile, you can teach from your projector, with the notes displayed behind you on-screen.
Save time, because all graphs and examples are ready-made. You don't have to draw on the whiteboard.
Learning technique designed to start at the basics, but to cycle through all required material in a sequential manner.
Each exercise builds on the knowledge of the previous exercise.
Mandatory exercises included which are designed to anticipate the mistakes students often make, teaching them in the process.
Inspired by feedback from over two-hundred individual students.
A completely new approach to teaching maths in Ireland.
Coordinate Geometry, Functions and Algebra are taught simultaneously, improving quality and speed of learning.
An excellent accompaniment or even replacement to the traditional textbook.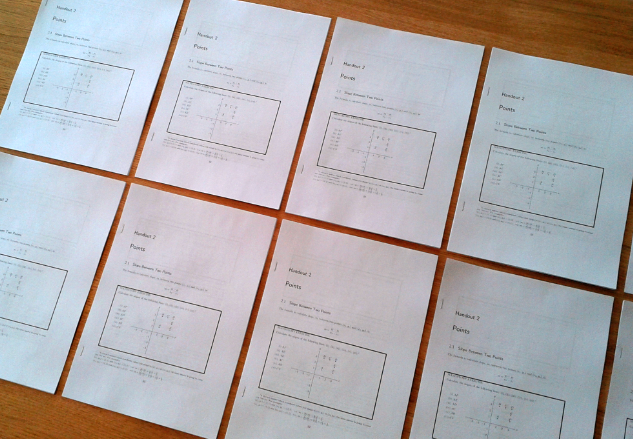 "I purchased the notes over the weekend. They are excellent, both in content and presentation. Thanks for making such a fabulous resource available. Hope my son appreciates them as much!"

J.D. – Co. Galway
"These notes have helped me enormously over the past number of weeks. They explain everything in great detail, yet in a clear and concise manner."

Laura – Co. Meath