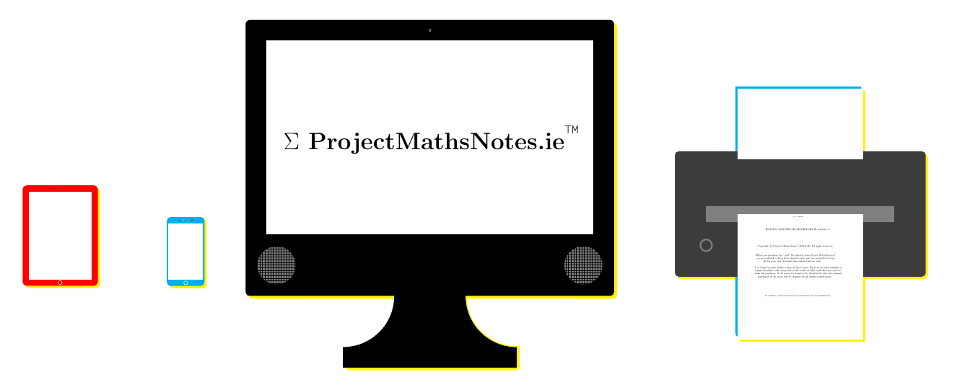 Downloadable Notes – PDF format – Higher Level 457 pages – Ordinary Level 332 pages – with password protection.
Viewable on your LAPTOP, DESKTOP, TABLET, SMARTPHONES and also designed to be PRINTED OUT (on A4 paper).
Designed to be printed DOUBLE SIDED with answers to "Mandatory Exercises" not visible until page is turned.
Excellent digital pocket-reference on-the-go (on your PHONE) and study-guide for Leaving Certificate PROJECT MATHS.
Fastest way on the market to get through syllabuses. Developed through feedback from students in GRINDS.

Written over a period of two years by a Maths Teacher giving one-to-one grinds and exam-focused one-week courses – the teacher noticed the broad majority of students were having the exact same problems, and developed a technique which could teach the new syllabus to them – quickly and properly.
It's a carefully planned sequence of examples and "mandatory exercises", which deal with these common issues and explain the simple things about maths, in a high level of detail. The "mandatory exercises" are a very important part of the learning technique – they anticipate the mistakes students will make, teaching them in the process. Studying the notes increases their confidence, and helps kids see the beauty and patterns in maths – enabling them to understand classroom lessons much better.
This "students-trying-it-for-themselves" method has helped many, even to visualise algebra equations, how they would look like as lines and curves graphed on the page – after just a couple of hours work. Project Maths Notes™ focuses on making things easy, and it is based on an approach of logical reasoning over rote-learning and relying on memory – crucial for exam success, with the new "Project Maths" syllabus.
Give your son or daughter the edge over the other students they are directly competing against, in the CAO points-race for college places. Purchase your copy of Project Maths Notes™ today by clicking either of the "Click Now To Buy" buttons, below.
"I purchased the notes over the weekend. They are excellent, both in content and presentation. Thanks for making such a fabulous resource available. Hope my son appreciates them as much!"

J.D. – Co. Galway
"These notes have helped me enormously over the past number of weeks. They explain everything in great detail, yet in a clear and concise manner."

Laura – Co. Meath


By purchasing, you agree to Terms & Conditions and No-Refunds policy. Product is for LEAVING CERT HIGHER LEVEL.
457 Pages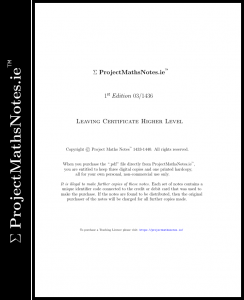 457 Pages



CLICK HERE TO PURCHASE MORE THAN ONE COPY
---


By purchasing, you agree to Terms & Conditions and No-Refunds policy. Product is for LEAVING CERT ORDINARY LEVEL.
332 Pages