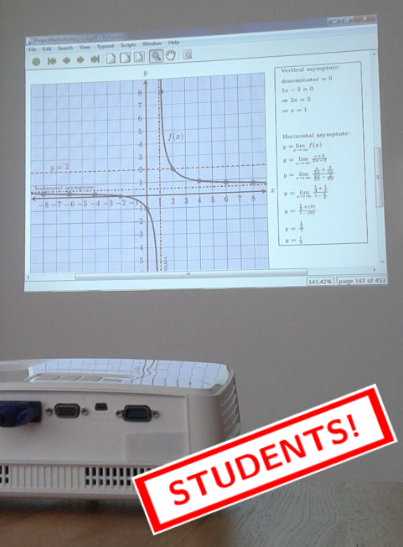 If you are a Student Teacher doing your teaching practice, Project Maths Notes™ is available to purchase as a Teaching and Learning Resource. It's fairly obvious that you will look good on front of your Teaching-Practice supervisor with the standard and level of presentation that this product provides. The product can be licenced to you at just €119.00 for two years.
The Student-Teacher Version offers:
Two years' licence for the price of one. Licence to print notes out for your students for two years.
Easy-to-read both for you and your students. A well-structured guide to help you navigate the massive syllabuses completely and effectively.
Projectable vector-rendered graphics, that are zoomable, true-to-life, and informative. Saves you time and hassle as you don't have to draw graphs on the whiteboard – a more efficient learning environment.  You don't have to turn your back to the class, which may invite trouble from students, especially if you are a trainee teacher.
Worked-out solutions to practice exercises given at the backs of the handouts are included. Very handy for differentiated learning within the classroom as well as for helping explain homework you might have given.
Focus on students seeing the patterns of how everything is working together. Many different topics are taught simultaneously. As this method reflects the Project-Maths exam format, outcomes are better achieved for the students.
More of a focus on students actually understanding material, with very little "learning-by rote".
Many real-life practical examples included and exam-style questions.
Can be used for Leaving Cert Higher Level and Leaving Cert Ordinary Level, and can be used also with the Junior Certificate Higher Level and Junior Cert Ordinary Level project-maths syllabuses, with a small amount of redaction.
Please note, if you are using Project Maths Notes™ as a Teaching & Learning Resource, and you are a Student-Teacher, then you must purchase a Teaching Licence to use these notes as your teaching aid. The benefit to you is that it slashes the amount of time you are having to spend on lesson preparation, while offering a professional looking service to your students – and potentially getting you a better Teaching-Practice grade.
Benefit to the student-teacher:
Never make embarrassing mistakes in front of your class.
All examples fully worked out. All course-work fully planned.
Slash preparation time to practically zero, giving you more time to focus on other things, like your TP (Teaching Practice) file and essays / assignments.
Look good on front of your TP supervisor and don't mess up your Teaching Practice grade.
Graphs and exercises can be used for all maths higher and ordinary level syllabuses.
Student-centred learning. Your students are doing most of the work themselves – will be kept writing and hence kept well behaved.
Your TP supervisor will like your use of ICT (Information and Communications Technology) in the classroom – use of ICT is often part of your grading.
You will be able to print out and distribute handouts, according to terms & conditions (no sharing with other teachers), for two years. So if you bought it half way through the PME, one year in – you'll still be licenced to use it for your own classes, for your first year of teaching, after you leave college. You can use it for grinds, too.
Extremely well structured with a logical progression in how material is introduced.
Students will be able to master algebra in as little as 7 hours – even Junior Cert Ordinary Level students.
Make some extra cash to support yourself in college. You can use it to teach grinds – and not only teach it, but teach it properly. Private students will keep hiring you because they will want to complete the course with you, and get all the handouts. The grinds-teacher can get up to and over 28 hours' lessons with any Leaving Cert Higher Level student – doing the calculations: that's roughly an income of €1,400.00, per student, before expenses – if you're charging €50 per hour. Just advertise in the classifieds section of local newspapers, or put up notices in shops and libraries to start getting customers. That will help pay your way through college.
"I purchased the notes over the weekend. They are excellent in content and presentation. Thanks for making such a fabulous resource available."

J.D. – Co. Galway
"These notes have helped me enormously over the past number of weeks. They explain everything in great detail, yet in a clear and concise manner. I am so happy to have them as a tool to help me through higher level maths!"

Laura – Co. Meath


By purchasing, you agree to the Terms & Conditions and No-refunds policy. Licence is for two years.
was €229.00
NOW €119.00
1023 Pages



You must currently be a student at a third-level institution to purchase this version. Click here for Full Version.