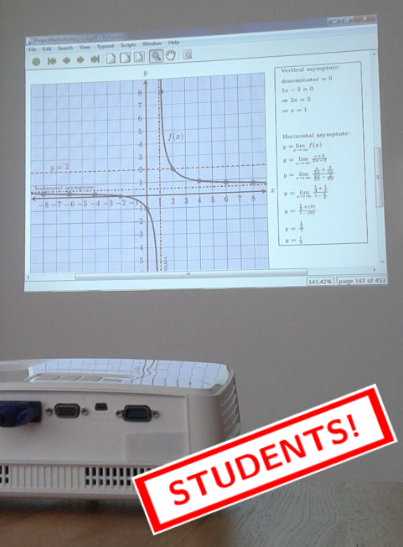 If you are a Student Teacher doing your teaching practice, Project Maths Notes™ is available to purchase as a Teaching and Learning Resource. Potentially improve your Teaching Practice grade with the standard and level of presentation that this product provides. The product can be licenced to you at just €119.00 for two years.
The PME Student-Teacher Licence offers:
Licence to print notes out for your students for two years.
A well-structured guide to help you navigate the massive syllabuses completely and effectively.
Every line of maths is explained in detail in examples – making it easy for you to brush up on your maths skills – even while preparing your lessons.
Vector-rendered graphics, that are zoomable, true-to-life, and informative. Use on the projector and save time – you don't have to draw as much on the whiteboard – better classroom management as you'll not have to turn your back to students.
All examples fully worked out. All course-work fully planned – reduces the risk of making mistakes on front of your class.
Such a resource could demonstrate an effective use of ICT as part of your Teaching Practice grade.
Worked-out solutions to the practice exercises included. Can be given as homework, but also handy for differentiated learning in case one or two students are a bit ahead of everybody else. (Not part of the standard Project Maths Notes™ product).
More of a focus on students actually understanding material, with very little "learning-by rote".
Students are taught to see the patterns of how everything is working together. Multiple topics are taught simultaneously – this method reflects the Project-Maths exam format – Learning Outcomes are better achieved.
Many real-life practical examples included and exam-style questions.
Designed for Leaving Cert Higher Level and Leaving Cert Ordinary Level project-maths, but can also be used with the Junior Certificate maths syllabuses. Can also be used for private tuition (grinds) to help support yourself in college and beyond.
Please note, if you are using Project Maths Notes™ as a Teaching & Learning Resource, and you are a Student-Teacher, then you must purchase a College Licence to use these notes as your teaching aid, rather than just purchasing a standard version. The benefit to you is that it slashes the amount of time you are having to spend on lesson preparation, while offering a professional looking service to your students – and potentially getting you a better Teaching-Practice grade. You ARE allowed to use it for grinds, too, within terms & conditions (no sharing with other teachers), up until the end of the licence period, whereas you can't do that with the standard version. And you can use it for the full two years – for example if you bought it half-way through the PME, one year in – you'll still be licenced to use it for your own classes, for your first year of teaching, after you leave college. Not to mention that you can make money with it teaching grinds.
"I purchased the notes over the weekend. They are excellent, both in content and presentation. Thanks for making such a fabulous resource available. Hope my son appreciates them as much!"

J.D. – Co. Galway
"These notes have helped me enormously over the past number of weeks. They explain everything in great detail, yet in a clear and concise manner."

Laura – Co. Meath


By purchasing, you agree to the Terms & Conditions and No-refunds policy. LICENCE IS FOR TWO YEARS.
2 Years – €119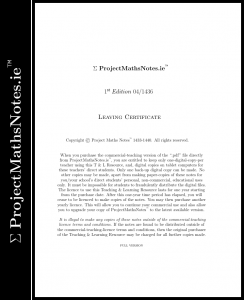 1018 Pages – Version 14.6



You must currently be a student at a third-level institution to purchase this version. Click here for Full Version.